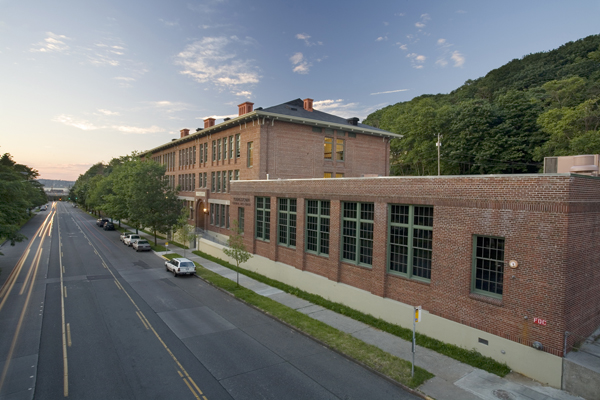 David Bestock has worked as Director of the Youngstown Cultural Arts Center for the last three years, managing everything from facilities, to programs, to community relations. He and his tenacious staff work to ensure that arts and culture, as well as affordable housing and other vital resources, continue to be accessible to all King County residents, especially those in Delridge.
We were so psyched this summer to receive 4Culture's largest Preservation Special Projects award to date! At the Delridge Neighborhoods Development Association (DNDA), we received $15,100 to use for developing a Needs Assessment for the Historic Cooper School, which now houses the Youngstown Cultural Arts Center and Cooper Artist Housing. With over 65,000 square feet of cultural space in our nearly 100-year old building, we house seven nonprofit organizations, an alternative public high school, and 36 live/work artist lofts. Little to no major improvements have been done in the past ten years, and even during that multi-million dollar remodel—including seismic retrofit and an overhaul of all major systems and spaces—there were projects that had to be cut short because of funds. So work is sorely needed here at our well-used facility.
Thanks to 4Culture and the Preservation Special Projects grant, we were able to contract Rolluda Architects to lead a team of subcontractors in evaluating current facilities needs and help us plan for improvements. Major work is needed to resolve a foundation settling issue and a compromised pipe under our building. Plus, we have big dreams to convert our Kitchen into a commercial/teaching kitchen, and increase capacity in our already dynamic Theater and Recording Studio.
We now have a thorough Needs Assessment, with analysis and recommendations for all our systems—mechanical, electrical, etc.—as well as projects we'll need to address within the next five years including the settling issue, new HVAC units, painting of our historic windows, and so much more. Our Needs Assessment also includes price estimation, so it is already being used as a fundraising tool for a budding capital campaign. In fact, as soon as the Needs Assessment was complete, we turned right around and applied to the Building for Culture grant opportunity, and we've since found out that we've been recommended to receive $100,000 towards improvements!
Big thanks to everyone involved, most notably 4Culture and Rolluda Architects. Come by Youngstown for a visit!
This project was funded by our Preservation Special Projects grant.