We know the grant process can be confusing. Although each of our grants is a bit different, almost all of them follow this basic process. Don't hesitate to get in touch with us if you have questions along the way!
1
Explore
our grants and calls for artists to find one that's a good fit for you and your project.
2
Read
the Guidelines and requirements for each of our grants—read them through carefully.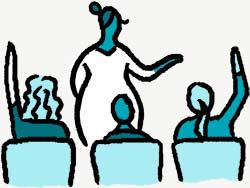 3
Attend
a free workshop. Find the schedule on your grant webpage, and bring your questions for our grant managers.
4
Prepare
all your materials, which may include a budget, work samples, and more. Don't wait until the last minute!
5
Start
your application! Applications for all of our grants are completed and submitted online. Hit the Apply button on the webpage for the grant you've selected and log in to our application portal.